2007 Cruisin' Event
Sept 1st 2007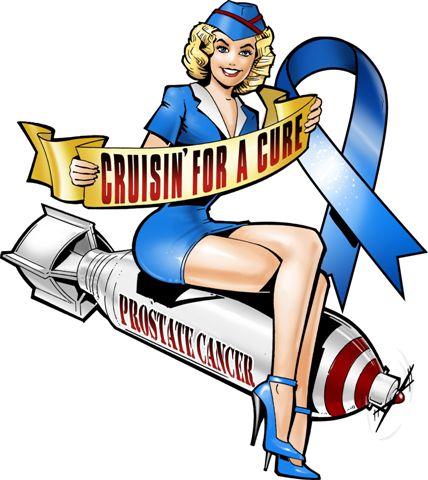 Raised Over $1500.00
for Prostate Cancer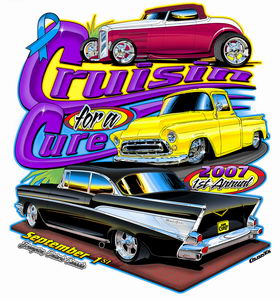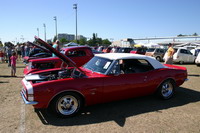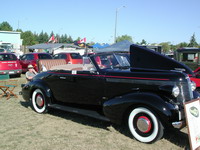 Picture Galleries :
We hosted some 62 cars and trucks in Chinguacousy Park on September 1st.
Fourteen of my PT Cruiser friends turned out. Five of the show cars were
from New York State, one driven by a survivor, illustrating that Prostate
Cancer knows no borders, nor does the Cruisin' for a Cure movement.
The best news of all is that we administered PSA blood tests to 136 men on Saturday!
The weather was perfect and we did not encounter any serious problems
during the day. Many, many volunteers assisted in the effort and I apologize
in advance to any that I forget to mention below.
You were all essential parts of the event.
On Friday evening, a crew of volunteers turned up to assemble
the "goodie bags" to be handed out to the vehicle exhibitors, set
up forms for registration and discuss the procedures to be
followed on Saturday.
Fred Norris, Gerry Brunjes, Denis Paris and Mukul Luthra fulfilled
a variety of roles, including cash management, photography and
dealing with various visitors from the media and other interested groups.
Mike Loughnan organized the clinic in the basement of the Curling Club.
He was ably assisted by Tillie Netherton and Margaret Butterly on Saturday.
Fernando Pacheco, Gordon Heinbuch, Vic Horvath and Martin Sugden
did a great job collecting registration information and fees at the main gate.
Bill Smith kindly brought his motor home to serve as a command post.
Inside the curling rink, many volunteers handed out goodie bags, managed
the door prizes, sold T-shirts, hats & blue ribbon pins and directed men
to the Testing Center. Jean Paris along with her daughter Carol and
granddaughter Christina, Vic & Pat Henderson, Marie Foote, Stew Cornell
and others shared these duties through the day.
We learned a lot about running a car show with help from both old and
new friends. Three couples from New York State provided invaluable
advice in the planning stages and worked very hard the day of the event
– Rick & Elaine Brown, Max & Debbie Gabriel and Jim & Caroline Winner.
Our new friend and volunteer Sean O'Neill of Brampton was active in
the registration and parking areas, utilizing experience gained while
running five major car shows in Welland. The difficult task of parking
the exhibitors' vehicles to their owners' satisfaction was performed by
Rick Brown, Max Gabriel, Gary Foote, Dick Winter and others.
Two other volunteers who turned out to be God sends were
Vic & Mary Agresti of Newmarket, who contacted us after seeing a
brief mention of our effort on a TV show on the Speed Channel.
They brought their gorgeous 1955 Chevrolet convertible, Bella 55, to the
show where it was a featured vehicle prominently displayed in the
parking lot beside the Curling Club.
Expert Disk Jockey services were provided by Bob McKerron, a
former Brampton resident who unselfishly donated his time and
advice to the cause. His music and commentary added greatly
to the excitement and atmosphere.
Eight vendors were on site, five selling products and services of
interest to car hobbyists and three selling food.
CfaCC generated a lot of support from the community and interest
from the press. We were visited by the Guardian, EZ Rock 97.3,
CFRB 1010, two different car magazines, Rogers Community TV
and a national cable television series film crew. One of the car
magazines will be doing an article on the event over the winter,
setting the stage for the 2nd Annual CfaCC.
It is my hope that Us Too! will choose to hold this event again
next year. We generated a lot of interest in Prostate Cancer both
in Brampton and throughout Southern Ontario and New York
State. And if the past free clinics are any indication, about fourteen
of the 136 men tested will be advised to seek further diagnosis.
Jim Dorsey,
Cruisin' for a Cure Canada Coordinator
(905) 453-3038
or Email
Thanks to all participants, supporters, Sponsors
well wishers and volunteers for job well done!

© Cruisin' For A Cure Canada